Ada Karczmarczyk, a.k.a. ADU, b. 1985, lives and works in Warsaw. Graduate of the Academy of Fine Arts in Poznań, Faculty of Multimedia Communications. Multimedia artist, performer, blogger, composer, and singer. Her work merges the separate and conflicting worlds of popular culture, spirituality, and art. Awarded numerous art prizes, such as the Views 2015 – Deutsche Bank Award. Participant in many exhibitions in Poland and abroad. In 2010 the artist completed an artistic residency in New York City.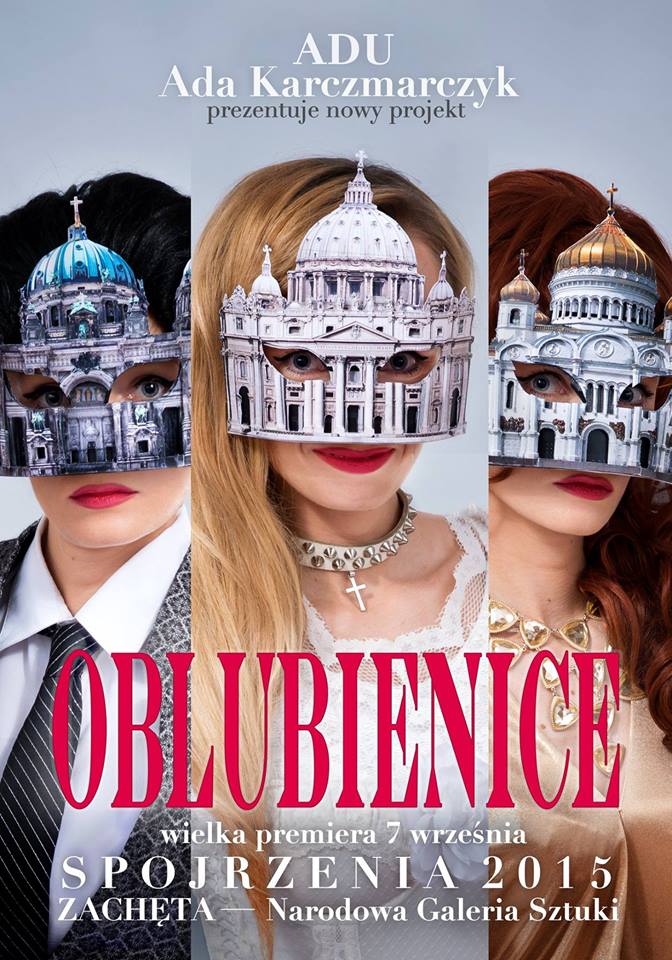 Ada Karczmarczyk, The Brides, 2015, video 4'18", photographs
The artist's music video to her own song and a series of three photographs derive inspiration from the vision of the Church as the Bride of Christ. Ada Karczmarczyk portrays the Church as a woman, or rather a girl, which taps into the artist's trademark pop aesthetic. A major question inherent in this work concerns the differences between the three Christian denominations: Catholic, Protestant, and Orthodox. Drawing on her observations and impressions, Karczmarczyk translates these differences into a set of fashion styles.
However, the differentiation is important for the artist not only at the level of aesthetic and image, but also in the context of the ecumenical discourse. In an interview published in Szum magazine on the occasion of the Views 2015—Deutsche Bank Award ceremony ("The Brides" premiered at the exhibition that accompanied the contest at the Zachęta – National Gallery of Art in Warsaw; Karczmarczyk was awarded second prize), the artist stated that the Christian churches of different traditions should be "united, but not uniform." "The Brides" suggests an encounter between the denominations, and a celebration of their differences with chic.
Yet, obviously enough, Karczmarczyk's project does not merely serve the internal dialogue between the Christian denominations—it is pursued in the language of contemporary art and on its territory. Importantly, the ideological and aesthetic strategy represented by Karczmarczyk, whose declared goal is evangelization by artistic means, distinguishes her both on the contemporary art scene and in the evangelization mission of the Catholic Church. Emanating the spirit and aesthetics of popular culture, the artist's practice is an experiment with the channels of communication between the potential "faithful" of both those communities.
Zapisz
Zapisz