B. 1984 in Białystok. Lives and works in Oakland, California. In 2010 the artist received her MFA diploma in painting from the Academy of Fine Arts in Poznań. Since her graduation Milena has presented her multimedia art projects at individual exhibitions ("Blue Bird," Raster Gallery, Warsaw, 2013; "Nostalgia of Now," Arsenał Gallery, Białystok, 2012) and group shows ("The School of Kyiv – Kyiv Biennial 2015," Kyiv, 2015; "Procedures for the Head/ Polish Art Now," Kunsthalle Bratislava, 2015). Her works have also featured at the art fairs LISTE in Basel and NADA in Miami. In 2014, Milena began writing film scripts and exploring her interest in feature filmmaking. The artist is currently a student of the American Film Institute in Los Angeles and is working on "Łopuchow"—a graphic novel devoted to growing up in a Polish provincial town during the period of the country's democratic and free market transition.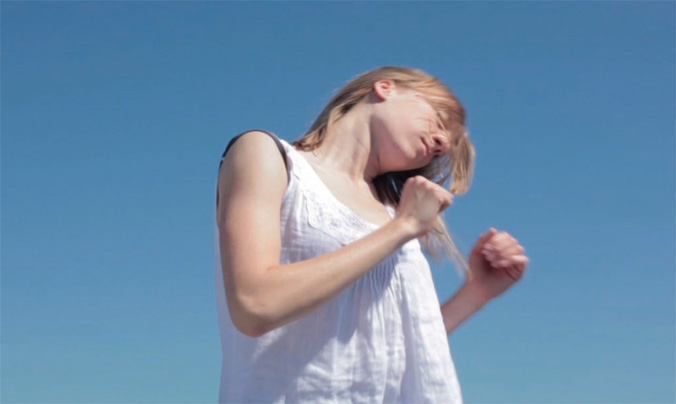 Milena Korolczuk, Białystość, 2010, video, 4'54"
Against the backdrop of an azure sky, a girl dressed in an airy white dress is dancing to the rhythm of church bells. Despite the connotations of religious ceremonies that this sound carries, Korolczuk's video does not emanate the spirit of cult practices embedded in institutional frames. The artist proposes an approach to religious celebrations that blurs the distinction between the Christian denominations (in Białystok, a city with a strong Orthodox community, the sound of church bells could conceivably come from either a Catholic or an Orthodox church). Yet, above all, her act deems invalid the division between any belief systems as it brings to mind the experience of profound trance, ecstasy in dance—a state that many cultures and religions worldwide perceive as an encounter with their deities.
Zapisz