Alicja Rogalska creates video works, installations, performances, and situations that relate mainly to social issues. Her practice is based mostly on research into specific contexts, collaboration, and participation. The artist addresses the political character of daily life and offers a reflection on the potential alternatives. Fine Art graduate at Goldsmiths College, and in cultural studies from the University of Warsaw. Rogalska has created many educational projects (for TATE, the University of Edinburgh, and Modern Art Oxford, among other institutions) and projects in public space. Awarded a scholarship from Artsadmin in London (2016–2017) and participant in the program Visionaries in Residence at MeetFactory in Prague (2016).
Rogalska has taken part in projects including "Social Design For Social Living," National Gallery, Jakarta, 2016; "All Men Become Sisters," Muzeum Sztuki, Łódź, 2015–2016; "Myth, Artisterium, Europe House," Tbilisi, 2015; "Rehearsal," National Museum in Kraków, 2015; "No Need For References," Kunsthalle Exnergasse. Vienna, 2015; "Critical Juncture," Kochi-Muziris Biennale, Kochi, India, 2014; "Dream Revolution, Avantgarde and Socialist Realism," Nowy Teatr and Muzeum Sztuki, Łódź, 2014.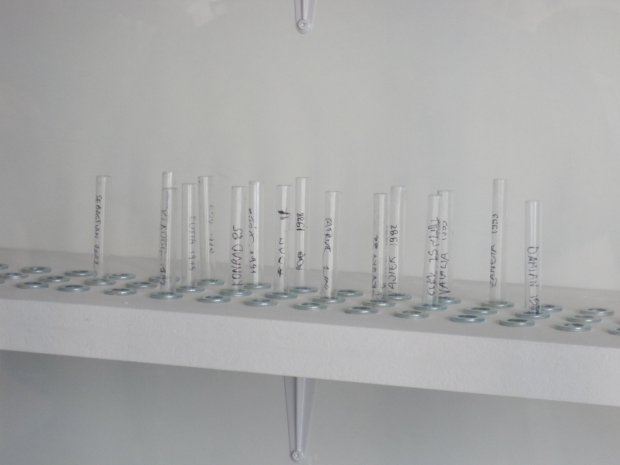 Łukasz Surowiec, Alicja Rogalska, Tear Dealer, 2014, video, object
As an artistic project, a tear dealer operated for five consecutive days in a rented commercial space located one a street in downtown Lublin. Renovated and operational, the space matched the character of other such venues and neighbouring shops such as a  greengrocer's and numerous pawnshops. The interior decoration flirts between the pure white interior of a cosmetic studio and an outlet of a loan shark. It was a place where one could deposit one's tears in exchange for real money—100 zlotys for 3 ml of tears.
The project investigates community-building processes that shift the focus from the sphere of rational choices to the forces that bind the collective body through the energy of common experience. After all, community is not consolidated only by its rational choices, but it also draws on affective forces and emotions. "Tear Dealer" by Alicja Rogalska and Łukasz Surowiec is an archive-collection of materialized social lamentation, common tears cried to a single glass vessel.
The work actualizes the Catholic devotion of Bitter Lamentations (Gorzkie Żale), which is a distinctively Polish devotion sung during Lent and deeply embedded in Polish culture. Presented here, the only difference is that the community of the faithful is replaced with one arranged by the artists. A community formed around compassio—commiseration in suffering—a secular ritual involving the joining in misery and shaking of sorrows through the act of crying.
The work by Rogalska and Surowiec reveals one of the forces behind a temporary collective body—whose development and existence is underpinned by a similar emotion. It also refers to certain mental clichés, and the habitual perception of "Polishness" as an identity founded on suffering. The project was also an attempt to understand contemporary economic mechanisms as well as a radical application of the economic theory of purposelessness.
Zapisz