Zygmunt Piotrowski (Noah Warsaw), b. 1947. Lives and works in Warsaw. Graduate of the Academy of Fine Arts in Warsaw, where he studied between 1969 and 1974. Since the early 1970s, Piotrowski has pursued multidisciplinary studies in the field of compositional group games and their application as "alternative education." In the 1980s, the artist introduced a new vision of artistic collaboration, known as "Aufmerksamkeitsschule," into European performance art, thus defining the program basis for the performance art movement  BLACK MARKET International, which he cofounded. (Biography removed from the records at the artist's request by the Art Service Association, ASA-European, Cologne). Piotrowski works under the name Noah Warsaw outside the institutional frame of the art market. Since 1998, active in promoting a new field of artistic activity known as "Groundwork / Fine Art," within which he explores visions of invisible spaces and extrasensory perception, which leads him towards the eastern sources of 喫靝 as a creative practice of Fine Art Performance.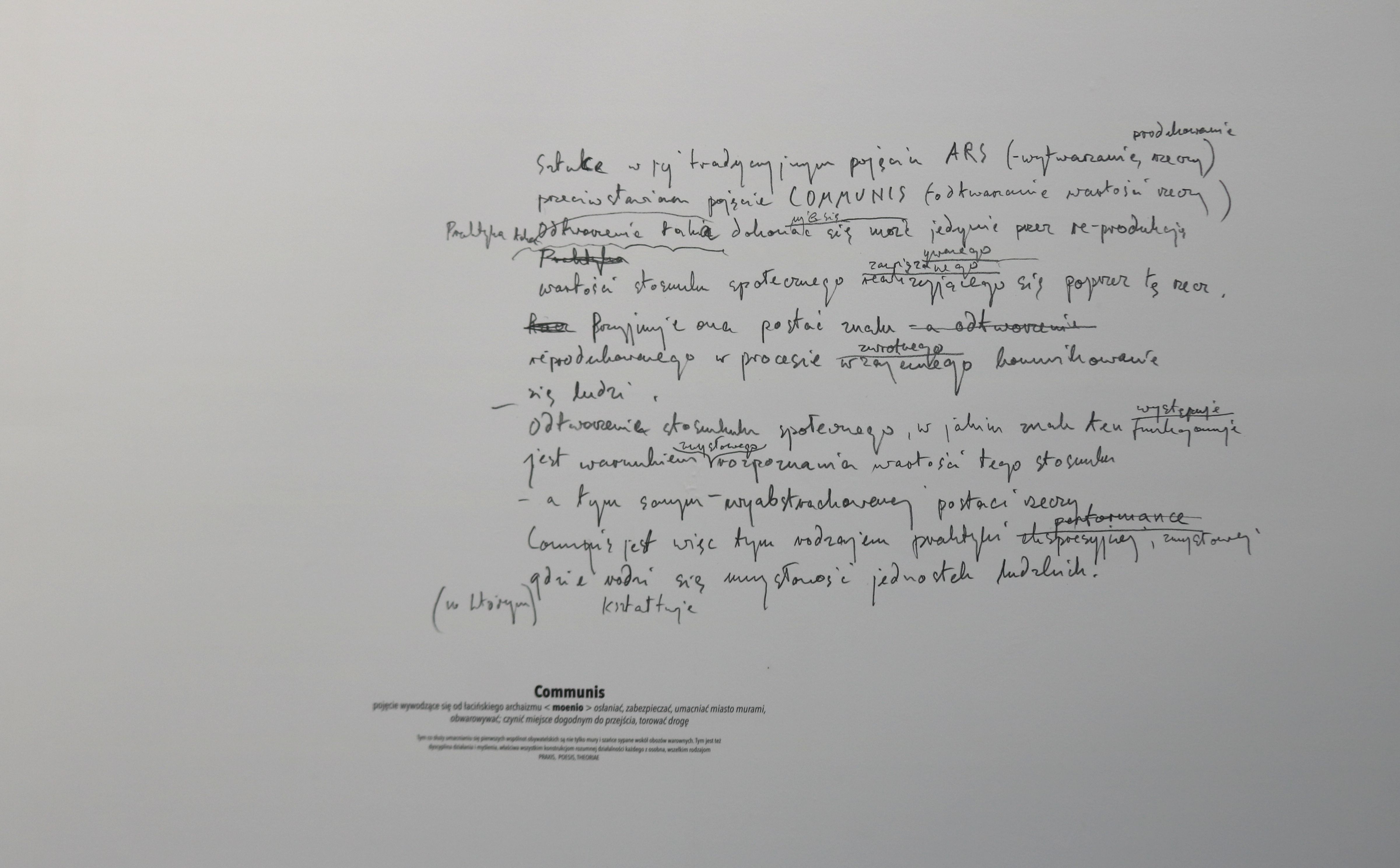 Zygmunt Piotrowski, Communis, 1975, citation from the artist's publication
"Communis" is the keyword of the "compositional group activities," pursued by artist Zygmunt Piotrowski at the Dziekanka student house and art venue in Warsaw in the 1970s. Piotrowski concentrated primarily on the question of community: its nature and conditions. The activities under the banner "Communis"—run in the spirit of alternative education with students from Warsaw universities within Piotrowski's Art and Research Studio—became an artistic emanation of the artist's postulates concerning community.
Attention was paid primarily to communication and the empowerment of the individuals who were to build the community through conscious interactions and negotiations—as if they formed an artistic composition, whose every element fitted perfectly with the whole but at the same time preserved its distinctive character. Piotrowski argued that community needs to be built from the bottom-up, otherwise when it is decreed in a top-down fashion the result is coercion and a lack of authenticity.
The quotation presented in the exhibition originates from a description of the concept of "Communis," published in 1975 by the artist, who implemented that concept in the course of his activities with students. Although this particular fragment includes a specific formulation of the idea and detailed etymological references, poetry dominates the remaining part of the publication. Piotrowski recognized this as less oppressive and univocal, and therefore a more appropriate means of expression for his concept.
Zapisz