B. March 19, 1959 in Sopot. Malinowska studied painting at the State Higher School of Visual Arts in Gdańsk, where she received a diploma in 1986 from the Faculty of Painting, Graphic Art and Sculpture. Between 1996 and 2007, the artist worked with Marek Kijewski in the duo Kijewski/Kocur. They explored the space of broadly understood contemporary visual culture and mass culture by applying their own strategy of SSS: surfing, scanning, sampling. These terms originate from the language of Internet users as well as producers of rap, hip-hop, and techno music, who rely heavily on musical samples from other pieces. The duo created their works with the use of "non-artistic" materials and found objects, such as colorful candies, balls, and Lego bricks. They also created neon signs.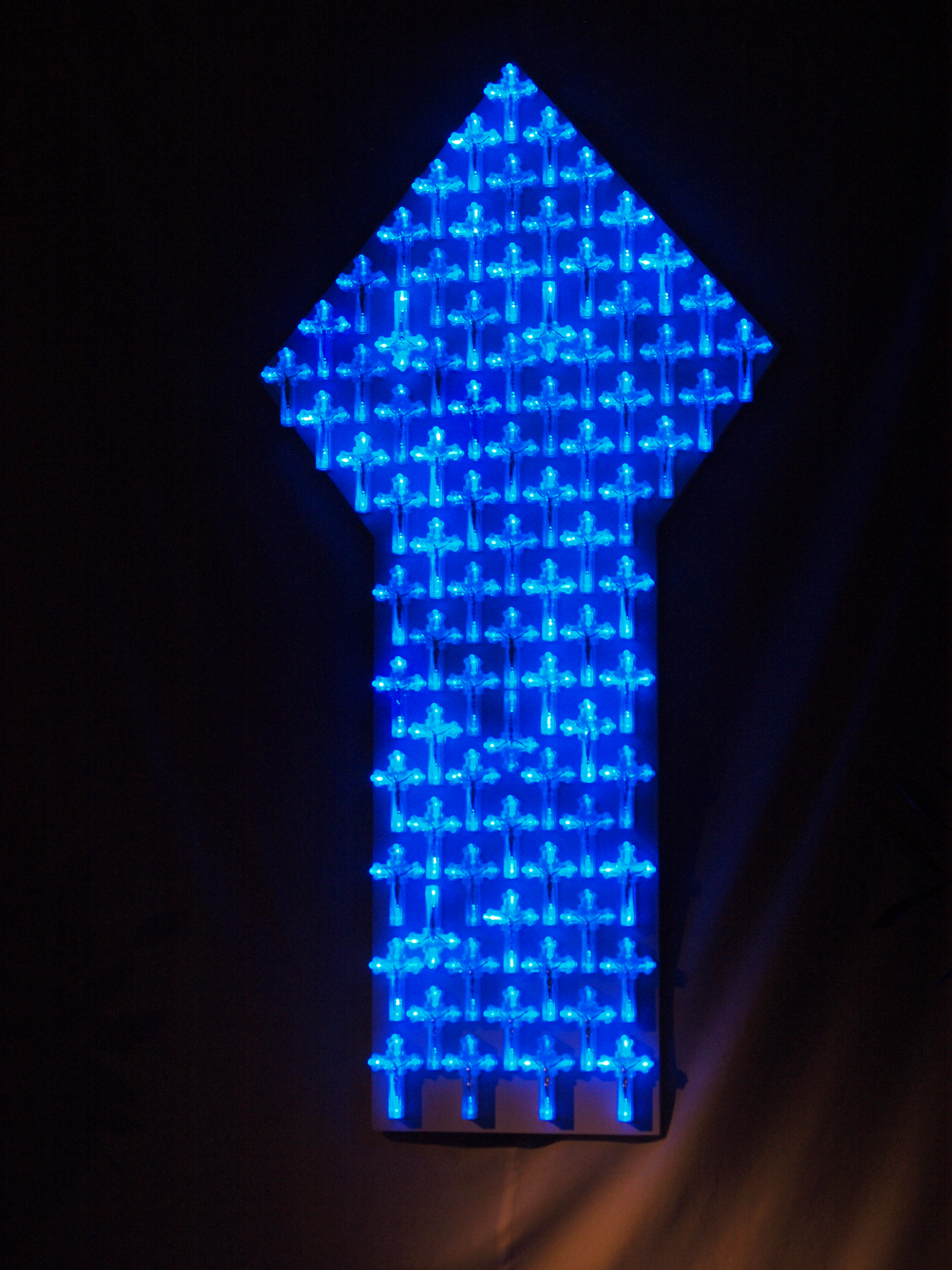 Małgorzata Malinowska/Kocur, Whosoever Possesses the Holy Lance, Holds in his Hands the Destiny of the World, 2015, sculpture
The work was created as a commission for the decoration of the Holy Sepulchre at the Church of St. Joseph of the Visitationists in Warsaw—a yearly custom cultivated in many parishes. The artist's work is animated by her reflection on the limits of the impact of devotional kitsch—on the tension that arises when the cross, an object of cult that carries a specific message, becomes an object that is thoughtlessly reproduced.
Malinowska's interest focuses the way the holy symbol is processed in contemporary sacral popular culture: akin to most gadgets, an item manufactured in China. In the context of the mutual permeation of faith and culture, the artist seems to enquire about aesthetic blasphemy, which is fascinating and repulsive at the same time.
The multiplication of a formally trivialized element results in a sculpture that makes use of its pop-cultural ambiguity in order to convey a message about the sacred sphere in Poland today. The accumulation of lights, each in the shape of the cross, appears to suggest collective prayer (regardless of one's religious denomination), which serves the faithful to express their longings, fears, and desires.
When the sculpture functioned as the main feature of the Holy Sepulchre in the aforementioned church, it became an object of profound adoration by the faithful, who prayed passionately facing the light cast by the work—a form made of aesthetically ambiguous elements. In this case, the spiritual charge of the used symbol prevailed and "neutralized" the material layer.
Inspired by the blade of the lance of St. Maurice, the form of the work references a broadly known relic, which stirs intense religious feelings in Catholicism, and, at the same time, stands as a symbol of power. Power is understood here in a two-fold way: as earthly agency which uses a religious symbol as an imperative that legitimizes its acts; and, perhaps above all, as the power of the religious community when the non-material value of the relic is transformed into a value that binds the entire community.
Zapisz
Zapisz
Zapisz