B.1967. Lives and works in Warsaw. Althamer studied at the Faculty of Sculpture at the Academy of Fine Arts in Warsaw between 1988 and 1993, where he received a diploma from the studio of Professor Grzegorz Kowalski. Sculptor, performer, action artist. Creates installations and video works. Alongside Katarzyna Kozyra, Jacek Adamas, and Jacek Markiewicz, Althamer formed one of the leading groups of Polish art in the 1990s—the so-called "Kowalnia" (artists from the studio of Professor Kowalski). Honored with the prestigious Vincent Award, awarded by the Dutch foundation de Broere (2004). The artist uses unconventional materials, highlighting the organic, material, and transient character of the human body. His work has contributed to redefining the concept of "social sculpture." Employs a wide range of techniques and methods, working in the field of figural sculpture as well as social actions and interventions. Althamer is known for his uncompromising and loyal approach to his artistic vocation. Represented by the Foksal Gallery Foundation in Warsaw.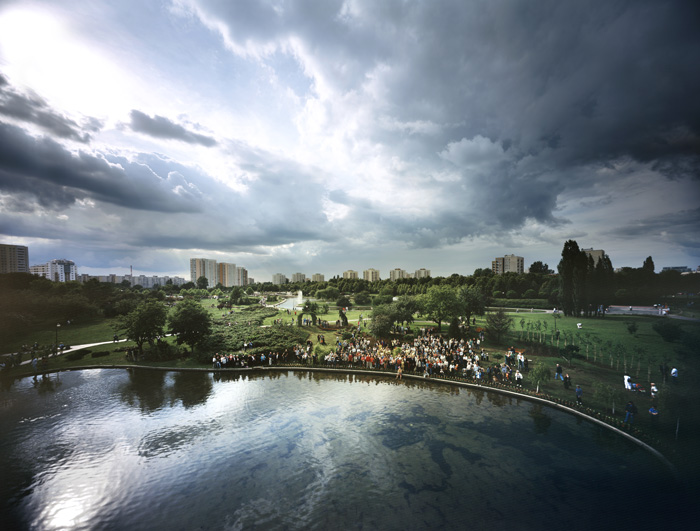 Paweł Althamer, The Garden of Eden, 2009, sculpture-garden
Paweł Althamer's practice relies on a subtle game between the mundane and the extraordinary character of situations of everyday life, eliciting both charm and a spiritual dimension. The exhibition illustrates this approach with a project produced through the co-creation of the sculpture "The Garden of Eden" with the residents of the Warsaw high-rise residential estate Bródno. The sculpture-garden situated in the Bródno Park comprises various plant species and undergoes ongoing transformations as plants grow and new ones are added.
Building a fragment of the garden of Paradise in a municipal park resembles an attempt at establishing a secular holiday, forming a community around an object that provides an opportunity to meet and act together. A photograph showing the group of people involved in building the garden later became part of the decoration of a parish church. In this case the strategy of "enchantment" profited from the aura and authority of the Church.
Zapisz