B. 1976 in Kostrzyn nad Odrą. Lives and works in Warsaw. Graduate of the painting studio of Professor Jarosław Modzelewski and the audiovisual space studio of Professor Grzegorz Kowalski at the Academy of Fine Arts in Warsaw. Works with video installations, documentary films, and performance art. Wysocki has presented his works at individual shows (such as "Aldona," Zachęta – National Gallery of Art, Warsaw, 2007; "Practices," Museum of Sculpture at the Królikarnia Palace, Warsaw, 2013) and numerous groups shows. Awarded with the prizes Samsung Art Master (2006) and Eugeniusz Geppert Award (2009), shortlisted for the "Views" Award in 2011. The artist mostly creates film portraits of excluded individuals and groups in which he presents their psychological and social condition with great sensitivity.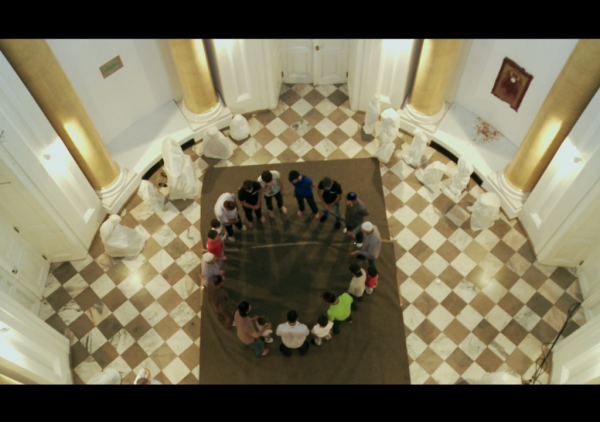 Piotr Wysocki, Zikr, 2012, video, 6'50"
The film documents an event which took place upon the artist's initiative at the Xawery Dunikowski Museum of Sculpture at the Królikarnia Palace in Warsaw during the exhibition "SKONTRUM Evolutions" in 2012. In the rotunda of the palace, members of the Ingush and Chechen ethnic minorities celebrated the Islamic devotional act of Zikr, which comprises a ritual meal and a prayer. The essence of the ritual consists in evoking the name of Allah amidst a mystical trance that engulfs the faithful, united by a sense of communion with God.
The participants prayed for peace in the Caucasus and for their return to their homeland—the ceremony gathered Ingush and Chechen migrants living in Western Europe. Their encounter was made possible by contact initiated by Piotr Wysocki. Thus, the artist established an ephemeral community whose members were united for a brief time by a traditional ritual and a profound spiritual experience.
What is more, by calling such a community into being within an art project, Wysocki opened up the possibility to scrutinize the challenges posed by an encounter with the Other, embodied here by the praying Muslims. The rules of the ceremony did not conform to European standards of secular public space (the women who prepared the ritual meal were excluded from the ritual itself). They also required an adjustment of the interior by veiling figural sculptures, which are forbidden in Islam. The ceremony initiated by the artist revealed the difficulties, challenges, and negotiations involved in the process of accommodating people and groups from other backgrounds in a given reality.
Zapisz