Hubert Czerepok, b. 1973 in Słubice. Graduate of the Kenar Art School in Zakopane and the Academy of Fine Arts in Poznań, where he studied in the workshops of Izabela Gustowska and Jan Berdyszak. The artist completed postgraduate studies at the Jan van Eyck Academie in Maastricht, Netherlands (2002–2003), and at the Higher Institute for Fine Arts in Antwerp, Belgium. Between 2006 and 2013, Czerepok worked as an assistant professor, and later associate professor, at the Video Art Studio at the University of Fine Arts in Poznań. He is currently a professor at the Faculty of Painting and New Media at the Academy of Fine Arts in Szczecin. Participant in many exhibitions in Poland and abroad. As part of the artistic duo Magisters (with Zbyszek Rogalski), he produced absurd photographs and movies. In cooperation with Sebastian Mendez, he created the strategy game "Survivors Of The White Cube," a simulation of the art world. Czerepok's multifaceted oeuvre escapes unambiguous typecasting. His actions demonstrate how images function in visual culture, and his strategy of mystification makes it possible to defuse the traditional mechanism of perception.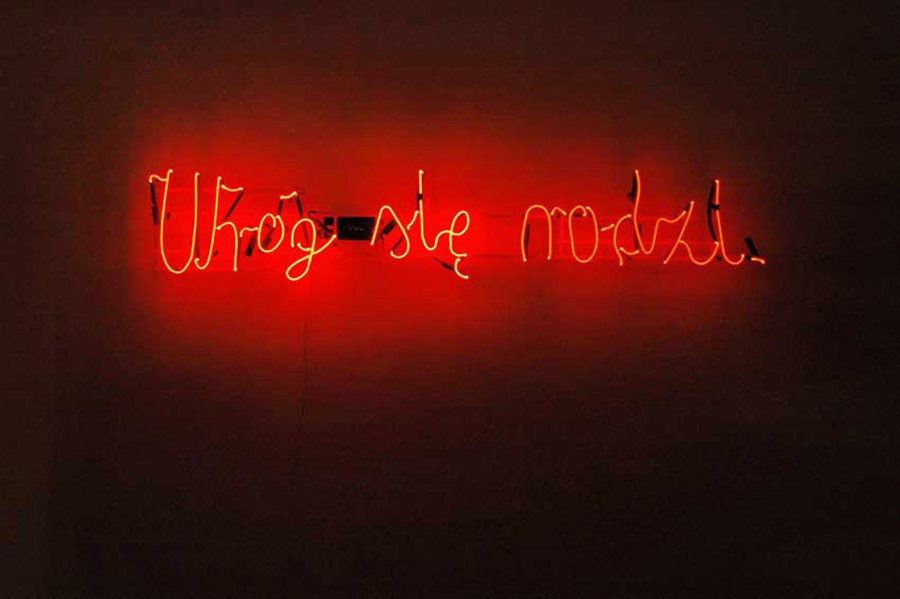 Hubert Czerepok, Foe Is Born, 2007, neon sign
"Foe is Born" forms part of a series of neon signs by Hubert Czerepok with ominous slogans that deliver a more or less direct commentary on the condition of contemporary Polish society (such as "You'll never be a Pole" and "It's a scandal for a Pole not to have enough civil courage to punch a helpless man"). The neon signs identify a particular sense of affiliation with a national or religious community, and the resulting exclusions.
Tapping into his trademark strategy of repetition and appropriation, Czerepok modifies the first verse of a popular Polish Christmas carol ("God is born…"). Thus, the artist denounces the brutal exclusivity of the religious community built on a strict division between "us" and "them." Czerepok's neon signs may be understood as a warning, and an appeal, for a critical examination of the impact of national and religious ideologies, which may potentially pave the way toward hostility and violence.
Zapisz